THE AMAZING PEOPLE WHO LEAD YOUR TRIBE
All team members, advisors, partners, associates, and other tribe members have been carefully selected and vetted to ensure the best possible experience and results for our clients.
Meet the owners, trainers & advisors
Rosson Richardson
Austin Moto Adventures Founder, President & Instructor
Rosson founded Austin Moto Adventures in the fall of 2022. The passion behind the project came from not only a lifetime of motorcycle riding, but also the recognition of how much ADV riding changes the lives of its tribe in a positive way.
From 10 years old on, Rosson always found a way to be on a bike. Beginning with crashing childhood friend's KDX 80 at 10 years old, to racing GSXR 750s in his twenties, he has ridden all types of motorcycles on all types of terrain.
In 2005, Rosson threw his leg over a Triumph Tiger and his world changed forever. Adventure riding became a part of his DNA and an insatiable appetite for more adventure riding and more motorcycles ensued.
While attending another academy, Rosson was trained by Trev Richter and Erin Sills. He was honored when he was invited back to become an instructor, one week after his training academy ended. Rosson quickly realized that his passion for adventure motorcycling fed his unknown passion for coaching and mentoring. Watching students come through the class and seeing their transformation as riders, and as people, his mission became to spread the ADV way of life, this tribe, to as many people as possible.
Rosson considers Austin Moto Adventures to be his calling, and he welcomes all who wish to join the ADV community to reach out and find their tribe at Austin Moto Adventures.
Trev Richter
Austin Moto Adventures Co-Founder and Chief Instructor
Trev Richter has been in pursuit of adventures on two wheels for over three decades. Since he was 10 years old riding BMX and Freestyle, progressing into dirt bikes and enduros from there until he discovered adventure biking in his 30s, his love for motorcycles and high speed has never stopped. Trev has raced the Baja NORRA 1000 and holds six world and national land speed records between 2017-2022 with a top speed of 215 mph.
As a youngster, he'd travel and camp outdoors with his beloved family for multiple weeks at a time throughout the country. Trev's passion for connecting with the outdoors led him on his first ADV journey to Alaska on a BMW 800 GS he outfitted for a month-long camping trip that would last for 9,000 miles.
Over time, Trev's love for the sport evolved effortlessly into more than 10 years of professional ADV motorcycle coaching for one of the largest training facilities in the United States, and owning Colorado ADV Moto. This allowed him to share his love for long-distance off-road adventure biking as an ADV group leader and coach throughout the country. He has had the ability to personally train hundreds of men and women and teach them to never give up and to embrace the adventure.
Considering his wholesome appetite for spending time with family, connecting with nature, and his distinct interest in extreme speeds on motorcycles, it's no surprise Trev has decided to spend his time helping others perfect their off-road skills at Austin Moto Adventures, a world-class ADV motorcycle training resort, so folks can take their new or refreshed skills to their next adventure with confidence.
Bobby Quezada
Austin Moto Adventures Instructor
Bobby started riding street motorcycles at 16 and spent 22 years racing and competing with motorcycles and cars. He took a short break from motorsports and tried dabbling in other activities, but never found anything quite as satisfying as motorcycling. In 2018 he was introduced to the world of motorcycle adventure riding. Having never ridden on dirt, he took many off-road training classes and immediately got hooked on what he calls his "new way of life." He has continued his off-road learning journey with various expeditions in the USA and Mexico, including rides from the Continental Divide to several BDRs (Back Country Discovery Routes).
"Adventure riding has genuinely transformed my life," Bobby said. "When I got the opportunity to become a trainer, I knew I had to give back so that others could experience the same. Since then, I have witnessed hundreds of people fulfill their dream and a passion for freedom on the backcountry roads on a motorcycle. Having a sense of accomplishment and a big smile on their faces gives me such a fulfilling emotion that is difficult to describe. I can only say that I want more of it."
Bobby said that he loves coaching and helping fellow riders develop their off-road riding skills, but mostly loves helping them conquer their fears, take control of their emotions and mental attitude, and become the best and safest off-road riders possible so they can conquer the world of off-road.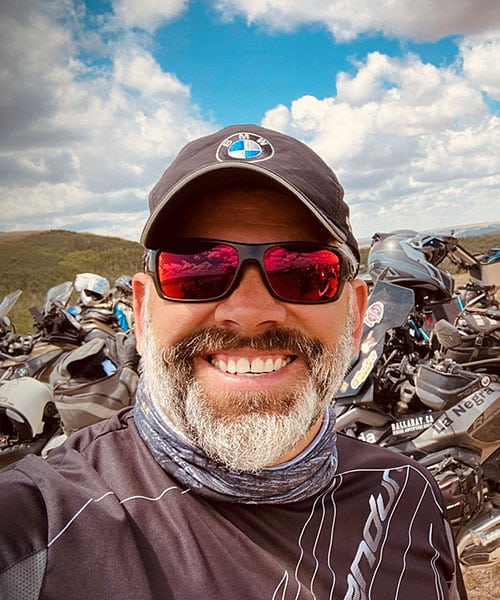 Kirk Zickler
Austin Moto Adventures Operations Advisor
Kirk is an accomplished registered investment advisor who owns and operates Coastal Wealth. Currently he also works as a registered professional engineer with an FAA drone pilot license and is actively working with drones on special projects. He also holds a Texas real estate license.
During his high school years, he had the privilege of traveling through Southeast Asia with his father. He immediately developed a strong desire for travel and experiencing diverse cultures. He continued with graduating from Texas A&M with a bachelor of science in civil engineering but has always dreamt of traveling & exploring new adventures on two-wheels.
In 2009 he turned his dreams into reality. He bought his first Harley Davidson cruiser at age 50 only to discover his passion for riding and endless desire to travel gave him a complete sense of freedom he had to pursue even further and his journey or "Wind Therapy" began.
Later in 2017 he began adventure riding and purchased a BMW GSA after attending a training course instructed by Trev Richter. His love for riding continued to grow with the restrictions of the road removed.
In 2019 he started working as a director of operations and special projects at an ADV facility. Witnessing riders overcome their doubts & fears of riding off road or dropping their bike and giving them the confidence to succeed filled a previously unknown void for him.
Being asked to be part of Austin Moto Adventures took his passion and accomplishments to a whole new level. Kirk is so excited to be a member of this great crew and is dedicated to help achieve the goals of building a world class ADV motorcycle training resort.
Rob Glass
Austin Moto Adventures Client Liaison
Raised in the oilfields and basketball courts of Southern Illinois, Rob migrated to Nashville, Tenn. to attend college. Graduating second (from the bottom) in his class, Rob says he was a well-known regular at Rotiers, Printers Alley, The Exit-In, and various early 1970s Nashville scenes.
Rob said that his underwhelming academic performance was due, in part, to the purchase of his first motorcycle – a Penton 125. His priorities didn't mesh with the classroom. He graduated (in four years), married, and settled into an "acceptable lifestyle." In the early 1980s he moved to Asheville, NC, becoming a semi-respected member of the academic and administrative community of Warren Wilson College.
His younger, adrenaline-fueled adventures included motocross, downhill skiing, skydiving, SCUBA diving, rock climbing, and white-water rafting. Eventually, as happens with most adults, he settled into mid-life responsibility and became a marketing and communications guru of sorts, establishing the consulting firm of Glass & Gold, Inc.
These days he is a motorcycle gypsy whose home is wherever his 2006 GS1200 is found. Rob and his bike hang out at Austin Moto Adventures full-time, where he will engage with clients on the phone, via emails, on the training courses, and sometimes on a tour. Rob says he enjoys helping folks take the steps needed to improve … in riding or in life. Almost always positive and an authentic encourager, you'll find him working with folks needing a helping hand.
Meaux Oates
Austin Moto Adventures Instructor
Meaux always had the call to adventure. Born in Southern Louisiana and raised in Texas, outdoor life was the only way of life. Camping, hunting, and fishing. Exploring the natural world over all. At the age of 19, he enlisted in the United States Marine Corps and served in the 1st Marine Division 1/1 Rifle Platoon. It was at this time that his love for adventure took its turn to the world of motorcycle travel. After the Marines, Meaux went on to culinary school. As a chef, this further opened avenues for travel. New places meant new adventures. As always, Serenity (his motorcycle) was the means to make it happen.
Meaux has ridden most all of the BDRs (Backcountry Discovery Route), and some he has ridden multiple times. "Love me some Utah and Colorado," he says. "Like many, I do not have a moto racing background, but what we do share is the thirst for adventure, and the camaraderie of teamwork and friendship that is forged in triumph over adversity."
Dylan Roberts
Austin Moto Adventures Head of Content
Originally from Austin, Roberts is a content creator. He graduated from the University of Arkansas (Fayetteville) in 2012 with a degree in broadcast journalism. At 20, he started traveling internationally as a journalist, photographer, and editor. Media trips have taken him to Iraq, Lebanon, Ukraine, Uganda, Gaza, Somalia, and more. Roberts has created content for VICE Media, Atlas News, New York Times, Ryot News, and companies such as Black Rifle Coffee, Bass Cats Boats, Visit Hot Springs Tourism, and American Heart Association. He also was a co-producer of the Sun Ladies VR film that played at Sundance and SXSW in 2018.
Jocelin Snow
Austin Moto Adventures Advisor
International Tour guide and BMW Certified Off-Road Instructor
40 years of experience as a motorcycle rider
Participant for the 2018 GS Trophy in Mongolia
Host/Presenter for the 2020 New Zealand and 2022 Albania, GS Trophy
Certified at the International Instructor Academy of BMW Motorrad
Jocelin, a.k.a. "pint sized powerhouse" was featured in the 2020 NEBDR film, 2021 WYBDR film, Ride to Adventure, and CNN BMW Motorcycle special. Jocelin has been riding for 40 years and has traveled by motorcycle all over the world. Having owned well over 40 motorcycles, she has competed in all types of motorcycle racing such as flat-track, supermoto, moto-cross, drag-racing, hare scrambles, enduro and even AMA road-racing. Jocelin not only rides but she enjoys turning a wrench too, having worked as chief mechanic, assisting the team to a national championship. She continuously works with manufacturers to research, design and develop safe motorcycle riding gear. Jocelin is constantly striving to be a positive role model and inspire new and existing riders to adventure and explore the world by motorcycle and discover the love of motorcycling.
Inna Thorn
Austin Moto Adventures Advisor
For the last decade, Inna Thorn has been at the helm of the Backcountry Discovery Routes® (BDR®) non-profit organization, and currently serves as BDR executive director and vice president of the Board. Raised in Moscow, Russia, Inna has always been a spirited soul. Helping others has been her passion, and she has dedicated most of her career to the non-profit sector. Inna moved to Seattle, Wash., in 1998, and worked for a local arts fundraising non-profit while putting herself through school at the University of Washington. In 2006, she met a guy who dreamed of riding motorcycles from Seattle to Tierra del Fuego, Argentina. This quickly became a shared vision, which they turned into a reality by riding a pair of KLR 650 motorcycles some 17,000 miles through 13 countries. By the end of the trip they decided to make permanent their adventure together with an engagement to marry. Once back in Seattle, Inna started a freelance creative agency and began consulting for motorcycle industry clients, including Ural Motorcycles and Touratech. Three years after the BDR was founded, the organization began to outgrow its volunteer workforce, and Inna was recruited to become the director of Operations. Since 2012, Inna has taken the operation to new levels with her energy, organization, and passion for inspiring others to explore the world on two wheels. When not hard at work, Inna and her husband like to share the wonders of nature with their two young children, by camping and hiking in the mountains, and traveling the world.
Moira Zinn
Austin Moto Adventures Advisor
For Moira Zinn, it's not strange to arrive at a meeting or attend an event with a helmet in hand. Showing up on two wheels is actually a calling card that helps her connect with the community. Zinn has worn many hats throughout her professional life. She was the first woman in the United States to found a trackday and high-performance motorcycle academy. She later founded Powertrip Industries, an events and experiential marketing agency specializing with vehicle manufacturers. Motorcycles are what got her traction managing events through her career. Specializing in live experiences and social interaction, Powertrip Industries created exceptional consumer experiences for its clients. Zinn and her team used their power for good, making clients' events shine, regardless of whether their products were on wheels. A perennial voice in the powersports community, Zinn also is a public speaker, master of ceremonies, trainer, and frequent radio and podcast guest. With Zinn's multifaceted skill set and her finger on the pulse of motorcycling, it's no wonder her two daughters share the same passion for two wheels.
David Bailey
Austin Moto Adventures Advisor
David Bailey is an adventurer, writer, musician, and creative who comes to Austin Moto Adventures with a wide-ranging background in non-profit leadership, leadership development, community development, counseling, psychology, sales, and visual arts. David graduated from Vanguard College with a degree in religious studies, worked for years in various church positions, and was awarded a doctor of ministry from Jameson Christian College in recognition of his work with at-risk youth. Born and raised in Canada, David traveled for more than 20 years doing leadership development in Africa, and then lived on the Gold Coast of Australia for five years, where he was involved in community development. Currently, David is the community relations partner for a national, publicly traded funeral and cemetery corporation based in Houston, and the proud owner and rider of a BMW R1250 GS.
Chris Bronstorp
Austin Moto Adventures Advisor
Chris Bronstorp has been riding motorcycles since 2006 and was introduced to adventure riding in 2016 and hasn't looked back. Since his first go-around on a large adventure bike, Chris has completed several BDRs, including the CA, NM, UT, CO, AZ, and part of the NV. He's also spent a good deal in Baja California on his R1250GS. Chris lives and breathes the motorcycle community. Most of his friends are riders, and he married a woman he met at a motorcycle show. When he's not riding, he spends time with his three kids. He also has a passion for automotive design, the fine arts, and physical fitness. And of course he spends his free time planning his next adventure ride.
As an advisor, Chris has extensive experience in the motorcycle industry. He has been a GM for a BMW Motorrad Dealership, a regional manager on the corporate level for the same brand, and a director of operations for a number of dealerships throughout the US. With his extensive experience in the motorcycle industry, he is excited to help support the Austin Moto Adventure team to reach its full potential as a world-class training facility.
Our Partners
The best that the industry has to offer